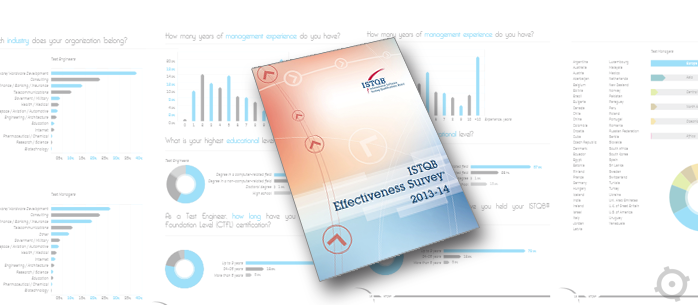 ISTQB opublikowało wyniki ankiety nt. efektywności certyfikacji, pełen raport można znaleźć tutaj: http://istqb.org/documents/ISTQB_Effectiveness_Survey_2013_14.pdf
Pierwsi napisali o tym testerzy.pl . Zachęcamy do zapoznania się z ich wnioskami tak samo jak z źródłem.
[Aktualizacja, 13-05-2014]
Wnioski z ankiety bezpośrednio z ISTQB:
The Survey report is available for download from the ISTQB® Web Site at the following link: http://istqb.org/references/surveys/istqb-effectiveness-survey.html
The most relevant results are summarized in the following:
The majority of Test Engineers undertook the ISTQB® CTFL certification in order to enhance their career path (80%) and develop their testing skills (70%).
The majority of Test Managers believe that participating in the ISTQB® certification scheme will positively impact testing quality in their projects (75%) and will enable them to provide a positive career path to their employees (55%).
Test Engineers and Test Managers alike are highly satisfied with the ISTQB® CTFL certifications and happy to recommend these to their colleagues (91% – Test Engineers, 94% – Test Managers).
The ISTQB® Foundation Level certification exams are seen as providing a reliable assessment of candidate knowledge.
Test Managers would like to have approximately 75% of their staff certified at the Foundation Level.
Approximately 70% of Test Managers consider it important to obtain Advanced Level certifications, and this opinion is shared by 63% of Test Engineers.
The new Expert Level certifications are generating a significant amount of interest.
There is strong demand for Agile certification throughout the world and across all major industries (85% of respondents are interested).
Approximately 70% of survey participants attribute a significant part of their certification success to the courses they undertook from accredited training providers.
In addition to Agile Testing, the following have emerged as the most important topics for the future: Performance Testing, Testing for Mobile Devices, and Usability Testing.
Thank you for your contribution to this survey, your input was very valuable to us.